Broken Arrow Counseling
Everyone needs counseling at some point in their lives, whether that's due to a personal crisis, an addiction, or simply wanting to learn more about their mental health. Whatever your reason, if you are in the Broken Arrow area and need therapy, we can help change your life for the better.
Evolution Mental Health Services is an outpatient mental health clinic that serves the Broken Arrow area. We work with individuals, groups, couples, and children, and our passion is to help all of our clients heal, grow, and thrive.
We offer individual therapy for a variety of issues such as addictions, substance abuse, depression, anxiety, trauma, relationship problems, anger management, and self-esteem issues, among others. In addition to our individual sessions, we have group therapy available for clients who qualify to attend.
Evolution Mental Health Services also has several corporate services that include EAP services, drug and alcohol assessments, mental health education, and training on psychological-based practices to use to improve team performance and communication. Whatever your needs, our team is ready and eager to help.
Why Broken Arrow Counseling Is Important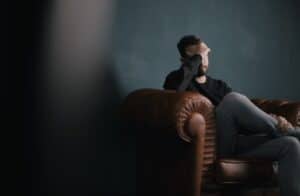 Just like medical services, mental health services are necessary for your overall health. Individuals who don't receive the help they need may struggle with relationships, their health, and their day-to-day responsibilities.
Therapy isn't just for individuals or couples who are in crisis or who have experienced trauma, however.
It's a good idea to meet with a therapist even when you feel like you're doing well to better yourself and strengthen your relationships with others.
Because of this, our staff at Evolution Mental Health Services is ready to work with you no matter how mentally and emotionally healthy or unhealthy you may feel.
Many people find it difficult to fit Broken Arrow counseling into their already busy schedules because there isn't always enough time in the week for appointments.
Luckily, Evolution Mental Health Services offers virtual appointments and is open on Saturdays so you don't have to miss work or other weekday responsibilities. We know how hectic the workweek can be, and we want our clients to be able to take advantage of all available resources.
Broken Arrow Counseling Experts
At Evolution Mental Health Services, our team sticks to our core values: growth, efficiency, quality, motivation, and freedom. As they do this, though, they also tailor their services to each client's needs and personality.
Evolution Mental Health Services wants every client to feel comfortable during their sessions. That's why we make sure our staff members are both kind and understanding.
Our therapy team is made up of licensed professionals who have many years of experience in the field. Each of them has unique specialized techniques they're trained in, allowing you and the rest of our patients to benefit from our diverse team.
Evolution Mental Health Services can help you take control of your mental health to improve the quality of your life. Even if you don't know exactly what you need, you can schedule an individual Broken Arrow counseling appointment with one of our therapists, and they'll point you to the resources you need to heal and thrive.