South Tulsa Cognitive Behavior Counseling
Everyone faces challenges during their life, and no one is perfect at thinking, responding to, or coping with those challenges in a healthy way. That's where cognitive behavioral counseling comes in. This type of therapy helps people learn how to better understand and manage their thoughts, emotions, and behaviors.
Cognitive behavioral counselors work with individuals, families, and groups to help them identify and change inaccurate or unhelpful thinking patterns and behavior patterns. They also often provide education on topics such as stress management, communication skills, and conflict resolution.
If you're considering cognitive behavioral counseling for yourself or a loved one, it's important to find a qualified therapist who has experience treating the specific challenges you're facing. Our therapists at Evolution Mental Health Services are highly qualified and will do all they can to help you feel comfortable during your sessions and empowered to take on the challenges life throws at you outside of them.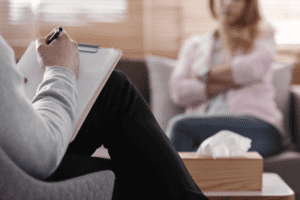 Benefits of South Tulsa Cognitive Behavior Counseling
Cognitive behavioral therapy has been shown to be an effective treatment for a variety of mental health conditions, including:
Anxiety disorders

Depression

Obsessive-compulsive disorder (OCD)

Post-traumatic stress disorder (PTSD)

Eating disorders

Substance abuse and addiction

Behavioral problems in children and teens
In addition to improving your mental health, cognitive behavioral therapy can also help improve your physical health, as it gives you better ways to manage the stress that comes from difficult situations and relationships.
During your sessions, your therapist will work with you to understand your problem and create a treatment strategy – no unhelpful one-size-fits-all treatments here. You'll walk away from each counseling session with practical tools and exercises to use in your everyday life, allowing you to take control of your unhealthy thoughts, emotions, and behaviors.
As you practice using these tools, your therapist will continue to cheer you on as you become more confident, more understanding of others, a better problem-solver, and healthier overall.
South Tulsa Cognitive Behavior Counseling Experts
Our therapists at Evolution Mental Health Services are highly qualified and experienced in cognitive behavioral therapy. They're passionate about helping their clients reach their goals and improve their mental and emotional wellbeing.
Their goal is to collaborate with you rather than telling you what to do, and they'll work with you at your own pace to ensure that you're both comfortable and progressing in your therapy. They'll push you to grow, but they'll also encourage you and be there to support you every step of the way.
Whether you're an adult looking for counseling for yourself or have a child you're concerned about, our therapists can help. And, if you aren't comfortable with the first Evolution Mental Health Services therapist you meet with, you can always switch to another — we know everyone has different needs and preferences, and we want to make sure you're getting the best possible care.
If you're ready to start cognitive behavioral counseling, we encourage you to contact us today to schedule a free consultation. We'll answer any of your questions and help you get started on the path to a healthier, happier life.